About Foresight Building Inspection
Sean Kinney founded Foresight Building Inspection in 2011 after spending 20 years in the residential and commercial construction industry. Sean previously owned a contracting company that built homes specializing in safety for infants, children and seniors. When he established Foresight Building Inspection, Sean's primary goal was to extend his love for ensuring the security of homes and well-being of others to the greater San Diego community.
With over 2000 successful inspections, Foresight Building Inspection continues to offer a uncompromising dedication to superior customer service coupled with the skills and professionalism you deserve from a home inspection company. Our inspectors are highly trained and certified through CREIA, the California Real Estate Inspection Association. With many hours of continued training and education every year, CREIA-certified inspectors remain at the forefront of industry standards and procedures. Our inspections are conducted under the guidelines and practices of CREIA's outstanding Standards of Practice and Code of Ethics.
Additionally, we are a member of the International Association of Certified Home Inspectors, or InterNACHI, the world's largest trade inspection association. We can provide the highest level of home inspection service, backed by the exceptional qualifications, that the industry has to offer.
We believe that home inspections should be more than just an evaluation of how your home operates. We are devoted to protecting families and giving them valuable knowledge about their homes. With foresight comes peace of mind.

Contact us to schedule your comprehensive Foresight Building Inspection!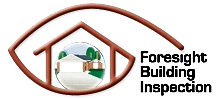 "With foresight comes peace of mind."
"With foresight comes peace of mind."